Refrigerated Transport Services

Box & Parcel Deliveries
Your trusted distribution partner of chilled and frozen products servicing companies Australia wide.

Pallet Distribution
Offering a premium pallet delivery service of all frozen and chilled products, anywhere in Victoria and interstate.

Warehousing Storage
Our state-of-the-art temperature monitoring warehouse offers a extensive range of refrigeration options to meet your needs.

Latest Technology
Kerry Logistics works with the latest technology and GPS tracking to keep you up to date with the distribution of your stock.
Your Complete Solution to Cold Storage Delivery
Looking to transport refrigerated goods?
Let us know how we can assist and one of our team members will get in touch with you.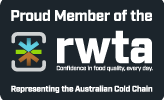 We are a proud member of the Refrigerated Warehouse & Transport Association of Australia Ltd (RWTA) who represents the Australian Cold Chain.
Kerry Logistics Cold Chain (Australia) Pty Ltd
41-55 Leakes Road
Laverton North Vic 3026